Asher Strategies Radio
Guest: Wendy Urquhart
Episodes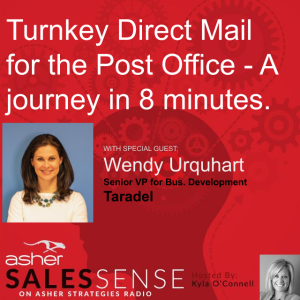 Monday Dec 09, 2019
Monday Dec 09, 2019

This short episode is part of the complete episode:
From Bagels to Boardrooms: My Personal Journey in Business Development
In this selection, Kyla and Wendy discuss the way Italian Studies paid off to position Taradel as the solution for the US Post Office and other postal services around the globe.

Monday Mar 18, 2019
Monday Mar 18, 2019
 
How do we become great at sales? The stock answer is there's the natural aptitude we're born with and the knowledge and experiences we gain over time. And, of course, our drive to succeed. Here's the story someone whose first job was at a bakery in college, and how with grit and determination she rose to become senior vice president for business development at a major multi-channel marketing platform company.